This is a FREE READ for fundraising purposes. Our operating expenses are staggering! CLICK HERE to make a generous tax-deductible contribution to THE SAVANT GARDE INSTITUTE through PayPal.



[Dear Colleague: All of this forms part of my massive and magnificent memoirs now finally in publicaton. (Check booksellers for ArtemisSmith's ODD GIRL Revisited.>) It is a hardcopy to be cross-referenced with this maze of interconnected pages on the internet whose central homepage is at ArtemisSmith.com also known as http://artemissmithmorpurgo.tripod.com/index.html. If you click on any of the links and want to get back to this particular page, it's best to keep hitting your back button - it's the only way you'll find your place without having to go home again. The address of this particular page is http://vilnajorgen.tripod.com/annselmyouth.html]



I was born ageless and gender free.

My first cogent memory was of being under the bright lights of what was later identified as a surgical table surrounded by masked beings in white, one of which clipped and knotted my umbilical cord(and a few days later, tucked the itchy scab into my belly button after weighing me on a baby scale). I say later identified, but the visual and visceral experience was clear to me from the first.

From the first I knew myself to be me and to have always been myself, and to have simply awakened from sleeping. (Much later, I also recalled prenatal experiences, but these were prompted by special circumstances.)

My mother, Lady Adele Vilhelma Ludvikke Larsen-Nilsen, Baroness Morpurgo, better known as Scandinavian artist Vilna Jorgen, told me that my uncle, Baron Aldo Morpurgo, a renowned italian architect-engineer, was the first one to hold and play and take joy in me as if he were actually my father while my real father, Baron Attilio Giacomo Morpurgo, M.D., was constantly in quarantine contending with one deadly epidemic after another while serving medical military duty at a fascist youth camp high in the Tyrolean Alps.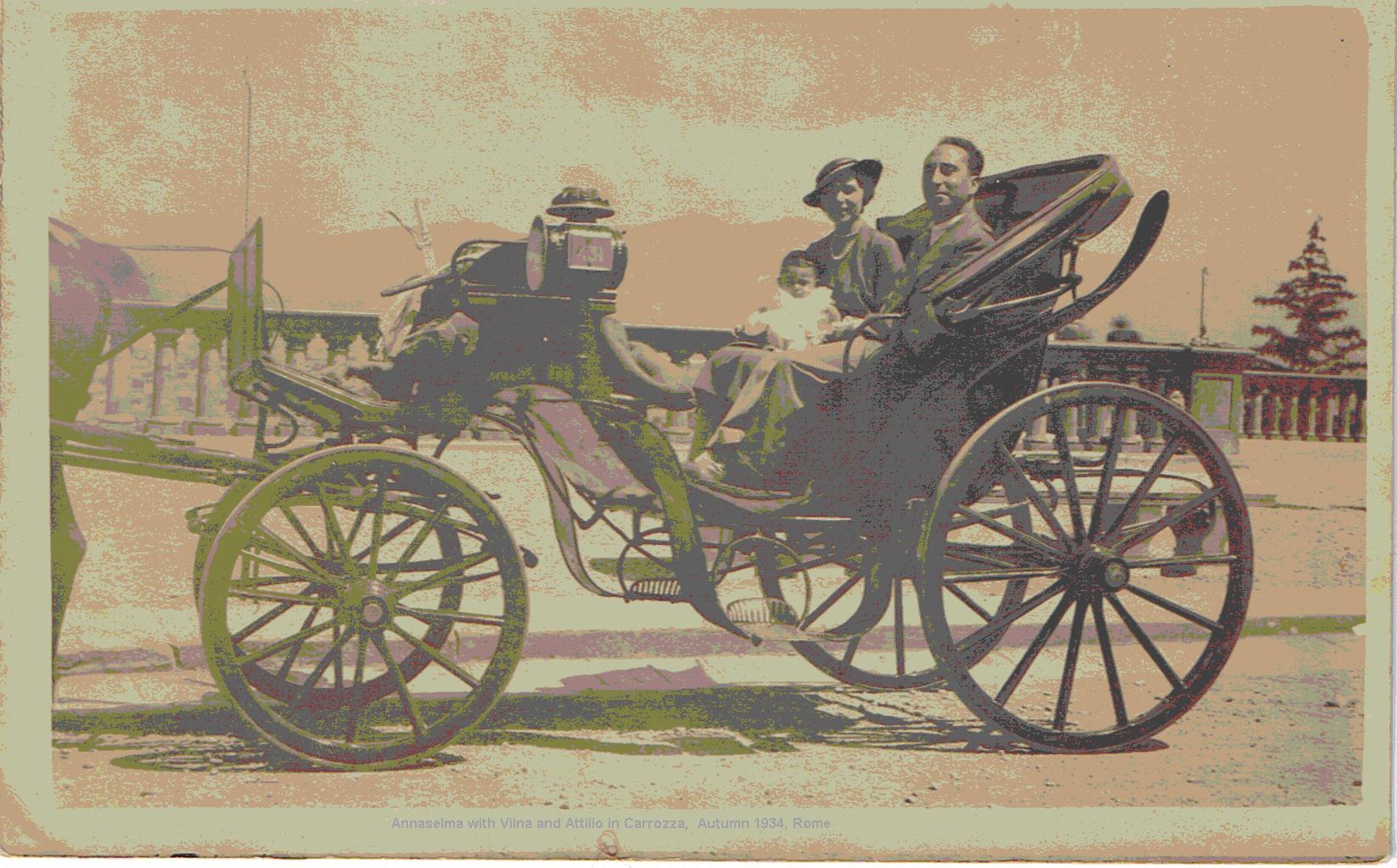 Family pictures do show, however, how proud both of my real parents were of me.

My paternal grandmother, Baroness Ida Sierra Morpurgo, took charge of me whenever my parents could not keep me with them at her palatial apartment in Via Lima, Rome. Most probably born in Staten Island, Ida married my grandfather Anselmo in Alexandria Egypt where she and her feminist stepmother, Nina Zanobetti Sierra Morpurgo, ran a school teaching the harem of King Farouk how to read and write English, and thereby also to usher his wives into modern unveiled anglicized Victorian society, suitable for the advent of increased trade through the Suez Canal which was being built and financed by the Morpurgo family. (One of the Morpurgo grandfathers was King Farouk's personal physician and at least one grandfather had embraced the Moslem Faith simultaneously with Free Masonry.)

Besides being a Victorian Feminist, Ida was also an accomplished artist who had studied painting under Turner and had his most famous work hanging on her wall which, alas, later had to be sold for a pittance to avoid Fascist confiscation.

Ida's mother had died in childbirth and apparently looked just like me - which I learned upon seeing her portrait when I was in my twenties and Ida was in her eighties. I had been given the name Annaselma in honor of my grandfather who had died just before I was born. Symbolically, it seems that through the years I recalled both mother and husband in the eyes of my grandmother. My birth was a great comfort to her. Anselmo's library was my first real home, and all his personal things connected me to him and I would sit there often learning how to sew and crochet with Ida who slowly watched me become a new generation reborn.

Anselmo was a collector of multiple antiquities. I remember that one of our overworked chambermaids once tripped on me and broke a giant, priceless and thoroughly irreparable Ming vase then blamed me for it for being underfoot, so I had to be confined to a large linen closet whenever there was no one to sit with me. Later, when my little sister Helga also came to stay with Ida, she and I used to play in the linen closet together. There was no other place for us before Attilio and Vilna were able to afford an apartment of their own in Via Vasari.

Prior to Hitler's alliance with Mussolini in 1937, Aldo had been commissioned by Mussollini to restore the entire Roman Forum, Attilio had been named 'Assistente Primario' of the United Hospitals of Rome, and Vilna, then famous as a Scandinavian Expressionist portrait sculptor who had many Italian and Scandinavian royal family commissions to her credit had been commanded by Mussolini to sculpt both him and Hitler for an elaborate public works project. It was a "favor" she dared not refuse.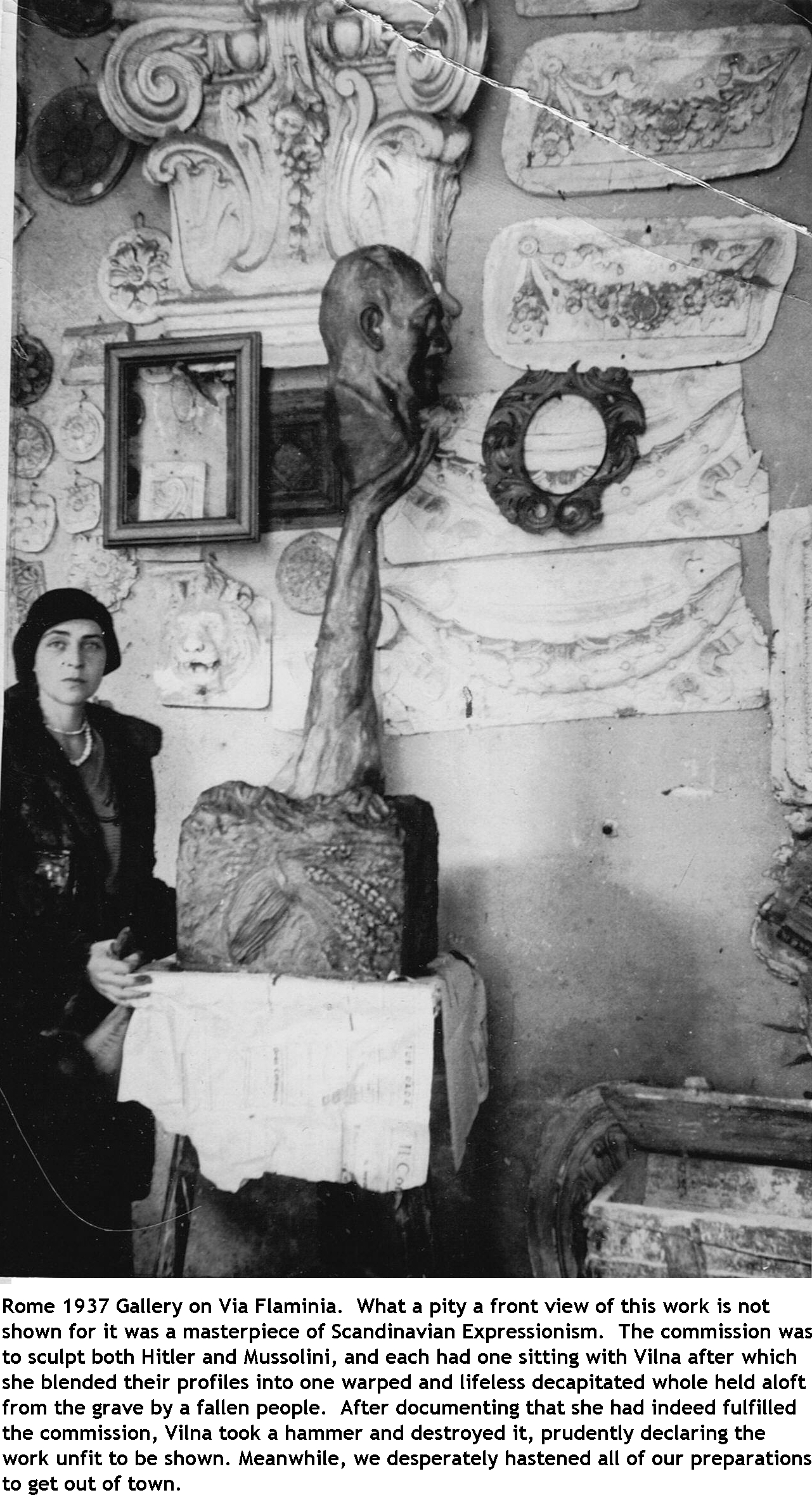 The work depicted above is a masterpiece of Scandinavian Expressionism. What a pity only the Hitler side is shown, for the other side is Mussolini's face, and both are merged at the center into a a clearly warped and beheaded whole, held up from the grave by the fallen people. The work, if exhibited, would have resulted in a death sentence for all of us. After documenting the fact that she had actually fulfilled the commission, Vilna took a hammer and destroyed it, declaring it unfit to be shown, and then hastened all of our preparations to get out of town.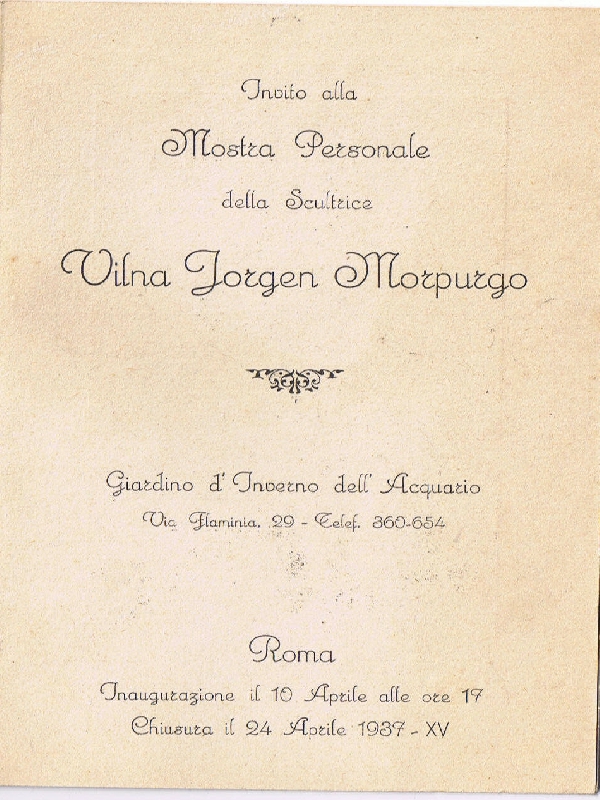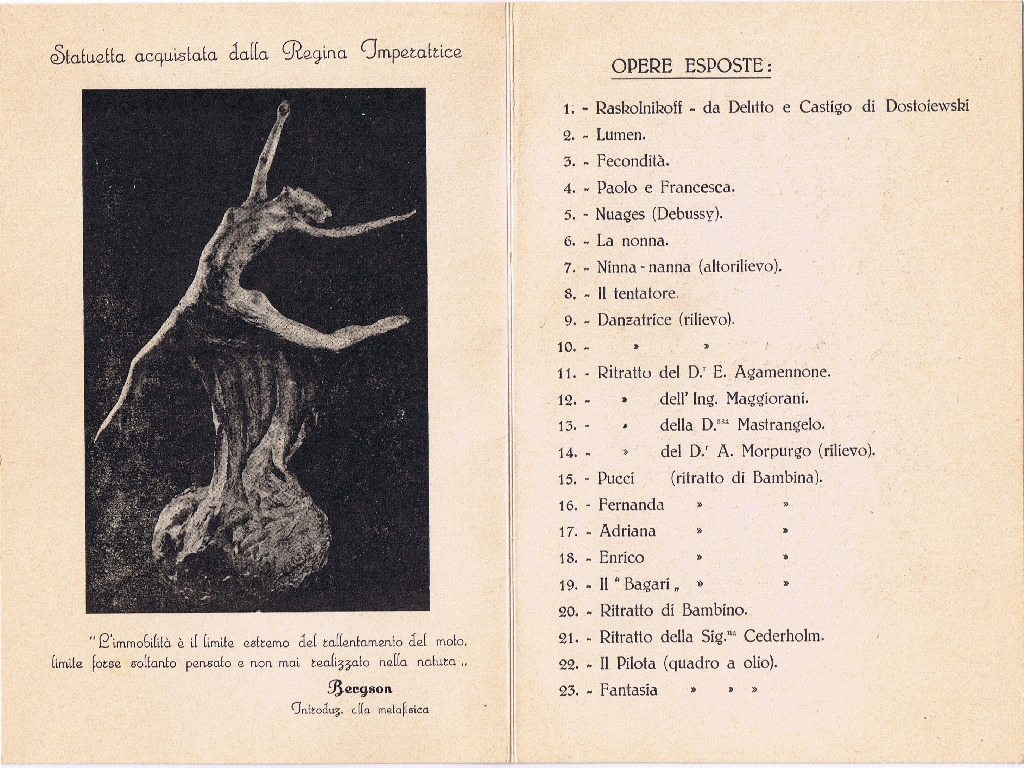 That part of the story, still under construction, can be cross-linked in greater detail by clicking here. All three were decommissioned when Hitler shook hands with Mussolini and Vilna refused to annul her marriage to Attilio.

Step-great-grandmother Nina Sierra Morpurgo was very tall and blue-eyed and probably once fair-haired. She had a villa in Florence where I visited her once. In her youth she belonged to the same literary circle frequented by George Eliot and Georges Sand and sometimes wore men's attire at social gatherings. My great-grandmother, who died in childbirth, was also part of that circle and I inherited her tuxedo, which fit me perfectly, at many Hamptons parties in the 1960's. I still have it in my closet although now it is too small for me. I also have two of Nina's feminist works for anyone in women's studies to peruse.

Anselmo's mother was Clarissa Laide and his father was named Brutus. As far as I know, Clarissa was either Scottish or Sardinian or both, and either Brutus or one of his brothers was a general under Garibaldi, having come with him from Staten Island to fight for Italian independence. His father or uncle had been a general under Simon Bolivar, having fought with him throughout South America, eventually following him to Staten Island, U.S.A. where they settled as neighboring farmers. But there were also Scottish-British roots, including Disraeli, on our family tree and the Chief of Clan Ferghys (Ferguson) was one of my great-great-uncles. He invited our family to a royal dinner at New York City's Explorers' Club where he resided, and received us in full Scottish regalia. He was also related to us on my mother's side, where Horatio Nelson, King Gustavus Adolphus of Sweden and Christina of Sweden are on our family tree. [Christina's portrait resembles me and Vilna, like Christina, was fluent in eight languages.]

Anselmo was a managerial agent in our family corporation, Assicurazione Generali, A.G., , the world's first and once largest insurance company, founded by one of our great-uncles, Giuseppe Lazzaro Morpurgo, whose Venetian palazzo on the Piazza became Generali's headquarters. (Look for their site on the internet.) There were many uncles, great uncles, cousins, employed there. They bankrolled the British, under Disraeli, into building the Suez Canal to facilitate trade with Asia and Africa. One branch of the family, being Zionist, obtained an empty promise from Disraeli that Palestine would be returned to them. We know what followed.

I mention all these facts not only for their historical value but to contrast what later took place in my life as I reached out through the centuries from Victorian to Post-post-modern Times.

My uncle Aldo, being the oldest, was charged with marrying into great wealth. His bride, coming from Egypt in 1936, was to bring with her an immense dowry which, alas, was banked entirely in British Pounds. When the British froze the Pound, it remained out of everyone's grasp.

My aunt,Valentina D'Arton Morpurgo, was an immensely competent woman who was not only an ardent Zionist but also an Egyptian Chess champion. She taught me Chess years later in America after both she and Vilna had reconciled and mellowed considerably toward each other, but at that early time their rivalry nearly tore Ida and me and my sister apart. Valentina insisted that the entire family should immediately relocate with her to Palestine, the "Promised Land." But to stay together and enjoy immense wealth in Egypt, the whole family would also have to convert, and that presented many difficulties when she came to butt heads with Vilna.

Having been Free Masons for at least four generations, neither Aldo nor Attilio was circumcised, and Ida had no love of her remote Judaic heritage, but finally Aldo and Ida reluctantly agreed to honor the marriage contract and offered to adopt me and Helga if Vilna, being pressured by Mussolini to annul her marriage to Attilio, no longer wanted her "Jewish" children.

As for Vilna, a Scandinavian Lutheran bred to anti-Zionism, conversion to Judaism was unthinkable and allowing Attilio to be circumcised further struck her as obscene, so she threatened divorce unless our side of the family applied to repatriate in the U.S.A.

Attilio wavered between loyalty to mother and family and love of Vilna and the children, and Vilna wavered between her love of her children and her fear that she could not support them alone if she took them to Sweden. America was the only compromise.

Ida, Aldo, Valentina and Augusto did not leave Italy in time. They got on a boat for Palestine, were denied landing in Egypt, were barricaded from Gibraltar. Without landing papers to anywhere they somehow made their way across and around both oceans to South America before finallly being allowed to disembark in Ecuador, where the history of one of our great-grandfathers, a hero under Bolivar, won them a place to wait out the war. We were not able to reunite with them in the U.S.A. until 1947 or so.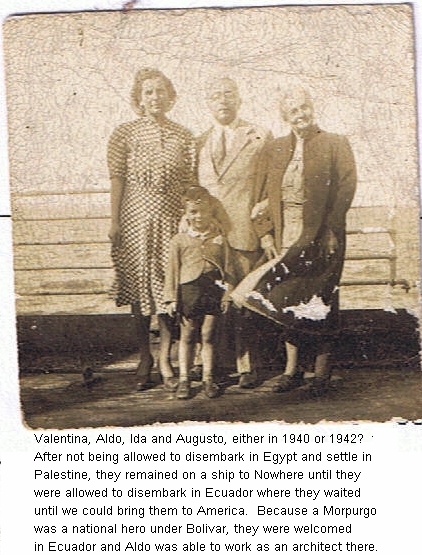 Attilio, Vilna and the children left on a boat to America in June 1940, the last day before the British bariccaded Gibraltar. Because all of the Scandinavian and Italian quotas were fully packed, we had to emigrate under the Egyptian quota which, from the start, branded us as "not quite white enough" as well as "not quite Jewish enough" to receive much aid from any of those special charities. We survived mostly on the occasional sale of Vilna's paintings and sculptures while Attilio attempted to pass the New York State medical boards. Finding medical practice very different in the U.S.A., he had to enroll in N.Y.U. Medical School and go through internship and residency at Welfare Hospital in what is now called Roosevelt Island.

We stayed a week at the Hotel Ansonia on arrival then rented an apartment in an elevator building across the street. The first year, we had money enough. Vilna was representing Norway in the 1939 World's Fair and The Argent Gallery on 57th Street was selling her paintings. There were many receptions and I remember meeting Count Basie at one of them. The Press was favorable, and Howard Duvree of the New York Times gave her excellent reviews.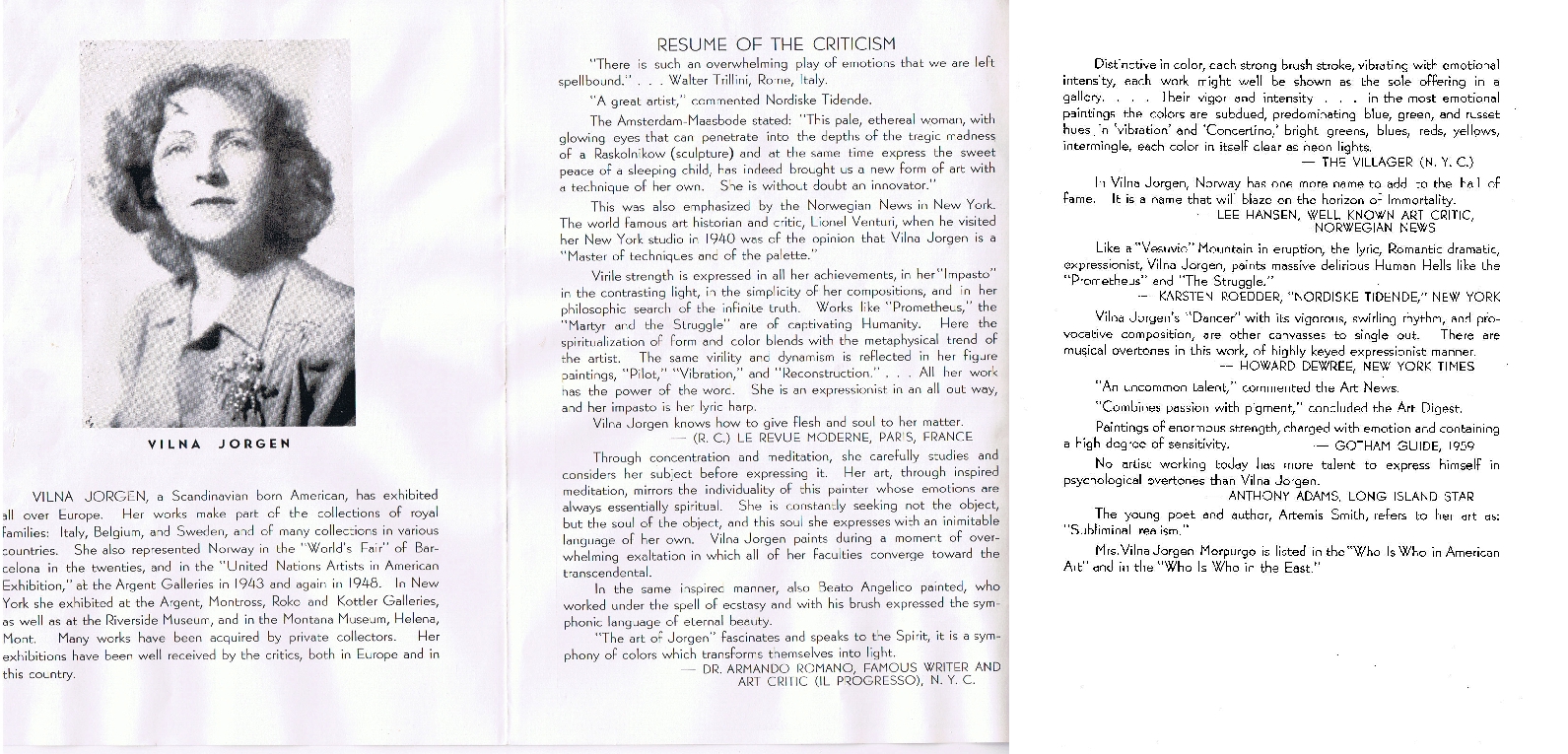 But there was also "The Daily Worker" interviewing her and Vilna made some ignorant statements that branded her as a Communist. (In Oslo years earlier she had interviewed Trotsky and embraced Bolshevikism, and one of her works had been purchased by the Moscow Art Museum, and this was enough to cast an unfavorable political shadow on her.)The socialist press suddenly surrounded her and choked out all other sponsors.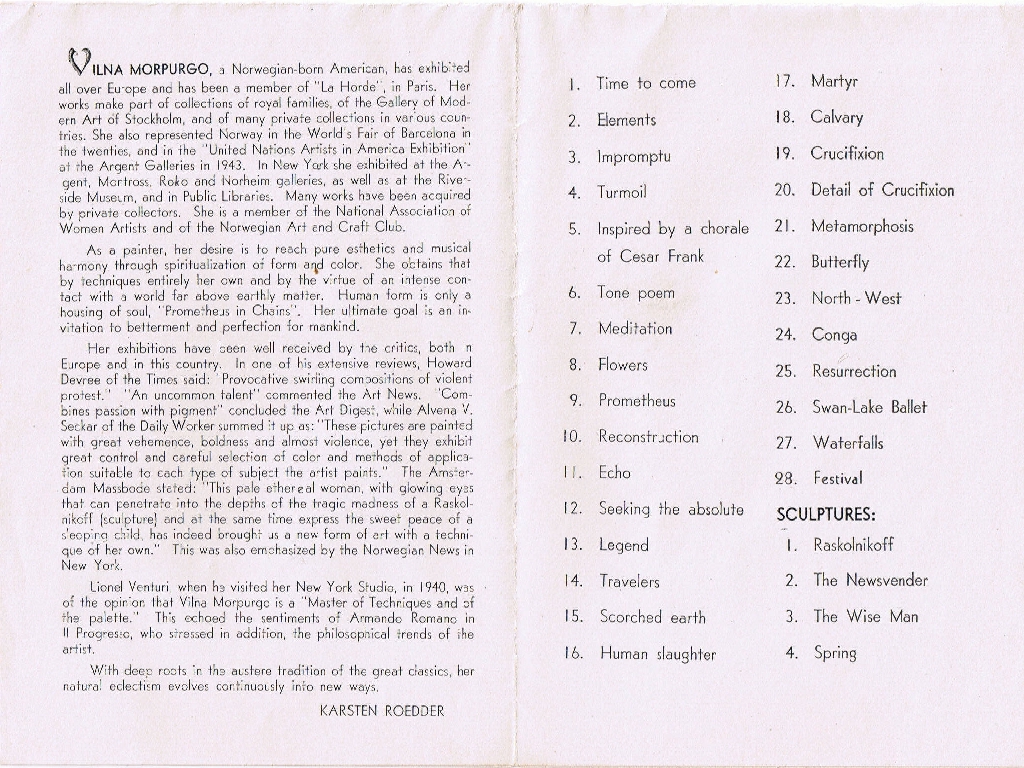 The second year, we ran out of money while waiting for Attilio to finish his residency. During that time, we often went a whole day without eating, lived in a tenement, and I got rat bite fever. At some point Vilna miscarried and nearly bled to death then suffered pernicious anemia even while pushing herself to paint some of her best works for the one or two collectors who kept buying. Only the Roko Gallery, then scarcely more than a frame shop on Greenwich Avenue in the West Village, would represent her.

My sister Helga and I coped as we could. Vilna, starved, sleepless and overworked, did not know how to cook anything but stew and fish, neither of which we could afford, and would try to feed us improperly cooked "lentil soup" that tasted like pebbles, white bread soaked in sugar and water which gave me headaches, and rice boiled in milk which made me retch. But Helga seemed to thrive on that diet and grew into a vegan. I, however, had inherited hypoglycemia from Anselmo. I mostly survived on occasional fifteen-cent hamburgers from the eatery downstairs, and the school milk program. Then I began singing Italian songs on the sidewalk outside our building for coins and made enough to also buy us ice cream.

Once a week we would walk miles from the upper West Side to the East Side and over the Queensborough Bridge to Welfare Island to visit Pappa. Then we would eat a very big meal and take home as much food as we could tactfully steal from all the cafeteria tables, but no other times. Once we only had a quarter left and half a month to wait until the next check. Vilna said, "Let's go to the movies." We did, and during intermission there was Bingo and Vilna won twenty-five dollars and Attilio won fifteen. That carried us for more than a month and I never forgot the value of taking such desperate gambles.

I remember how stressful those days were on us, but never so vividly as in the 1980's when I and a friend were on the upper West Side looking for a place to have brunch and I noticed that the old corner eatery had now been transformed into a steak house. We went there and I ordered steak and eggs. When the food was brought to me, from out of nowhere tears began to pour down my cheeks and would not stop pouring out of me for an hour. It was most embarassing, but also relieving.


Still under construction; come back later or buy the e-book or the paperback edition, or go back to artemissmith.com for links to different chapters in my life.